Greene & Greene Optometry
Dr Martin Greene attended the University of Connecticut where he received a degree in Biology and served as captain of the swim team.  He then went to the New England College of Optometry in Boston, where a rotation in Heidelberg, Germany was one of the highlights of his clinical training.  After completing his training, he joined the practice with his brother. Community involvement includes many years in the Rotary club of Watertown, where Marty served as President in 1996-97.  A long time Pan Mass Challenge rider and fund raiser, cycling has been a large part of life.  He and his wife, Paulette, have a son and a daughter, and have spent countless days cheering for their soccer teams.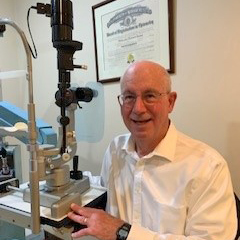 Dr. Greene has been in practice in Watertown, MA since 1971. He graduated from New England College of Optometry in 1968 with his Doctor of Optometry degree. After that he was with the United States Air Force in the Biomedical Sciences division for two years as head of the eye clinic at the hospital at Whiteman AFB, in Mo. Dr. Greene joined Dr. Ted Weisman in Watertown in the Optometry practice in Watertown square.
More about Dr. Malcolm Greene
Dr. Weisman passed away in 1976, and Dr. Greene moved the practice to 89 Mt. Auburn St. When his brother Martin graduated Optometry school they moved the office to 31 Spring St. in Watertown in 1988. Dr. Malcolm has been in private practice now in Watertown for 50 years. He is a life member of the Mass. Society of Optometrists, and the American Optometric Association. He and Martin support and volunteer at a free eye clinic in Luxor Egypt. Both have been active in the Watertown Rotary Club, and many local charities.
Manish Shah received his Doctor of Optometry degree in 2002 from the New England College of Optometry in Boston, MA. He continued his optometric training through a residency at the Veterans Affairs Medical Center in Brockton, MA, specializing in hospital-based optometry and surgical co-management. An Ohio native, Dr. Shah received his BS in Microbiology from The Ohio State University in Columbus, Ohio.
More about Dr. Manish Shah
For more than a decade, Dr. Shah served as Director of Eye Services at the South End Community Health Center, a teaching institution where, in addition to providing direct patient care, he trained and mentored hundreds of future optometrists. Now in private practice, Dr. Shah cares for patients at several locations in greater Boston. Dr. Shah is a member of the American Optometric Association and the Massachusetts Society of Optometrists and a fellow of the American Academy of Optometry. When Dr. Shah is not practicing optometry, he enjoys spending time with his wife and children and their rambunctious dog. As a family, they are working on hiking all of the 48 4,000–foot peaks in New Hampshire's White Mountains. Dr. Shah is also an avid skier and a passionate Ohio State Buckeyes fan.
Patricia Pelletier
Office Manager
Pelletier grew up in Watertown and attended Watertown High School. She is a lifelong Watertown resident. She' s been very active in the community and was at Star Market for many years before joining the practice. Trish especially enjoys her 3 grandchildren and is very active in their lives. She enjoys seeing many lifelong friends and acquaintances at the optometry office.